🧙🏼‍♂️ Lore AI Newsletter #3
GM.
Today I'm experimenting with writing less and getting to the point...
after an appropriately creepy Halloween GIF intro.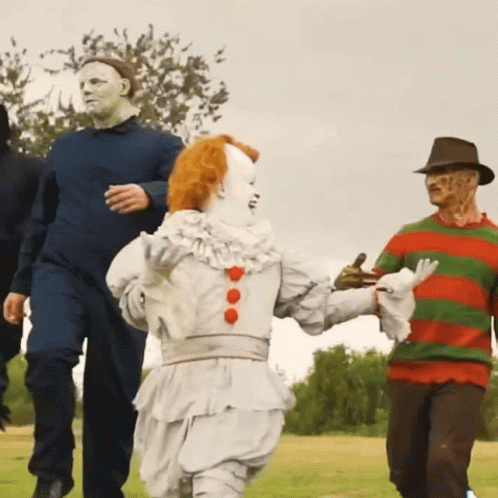 In today's issue:
💡MOST INNOVATIVE PRODUCT:  Avatar AI
📰 AI NEWS: Biotech is beginning human trials with drugs discovered using AI. Opera created by AI. Modl.ai raises $8.4 million for AI-driven play testing. Google acquires AI avatar startup for $100M.
🤯 COOLEST THING: Stable Diffusion in VR by Scottie Fox.
🧠THINGS I LEARNED: AI profile photos are blowing up. Artists are upset about AI. People are using AI for game development, and it's fantastic.
✨FEATURED ARTISTS: LunaMage, Erotome Art, Oliver Altair, and AmliArt.
Avatar AI took off this week in one of the most impressive AI-powered launches I've seen. The product helps you to create a beautiful AI-generated profile photo of yourself for social media.
Founder Pieter Levels(best known for NomadList) stated it made $10,000 on the first day of launch. The fastest of any project he's ever launched.
Podcast host Steph Smith and other influencers in tech have shared incredible photos of themselves created with Avatar AI.
Which is such an intelligent viral element baked right into the product. We all naturally have a bit of vanity. Who doesn't want to look good and powerful – and show others?
And that's why it's taking off so fast. Brilliant.
How it works
Upload 20 photos of yourself from various angles. No nudes, please.
Pay $40.
Wait 3 hours, then get back 100 results.
Avatar AI is a perfect example of using AI to create highly profitable products that weren't even possible before.
I think I'll start coding some projects for Lore. :)
Jasper.ai - AI Writing Assistant
❤️ We've partnered with Jasper to offer you 10,000 free credits if you signup using our affiliate link. Bonus: it helps support our newsletter and community.
Free Trial
📰AI News
Biotech and Opera and Google, oh my!
🙌
Are you on LinkedIn?
We created a
Generative AI Group
! Feel free to request an invite and participate. I share updates there daily.
🤯 COOLEST THING
Stable Diffusion VR by Scottie Fox
I'm biased because of my love and background in video games. But, once again the most incredible thing this week is gaming related.
Thanks to a tweet from nearcyan I came across ScottieFox and his work with AI-enhanced VR. This kind of stuff is the reason I love AI.
Using Stable Diffusion, ScottieFox has created a new method of projection in VR. Instead of generating 2d images, he's using Stable Diffusion to generate 3d worlds. And the results are incredible. 👇
What this kind of technology will do for VR in the future is fantastic. People can create entire virtual worlds that they can use for video games, social interactions, or share as an artistic expression.
As a father, I'm excited for my son to grow up in a world where his creativity can be unlocked. Where anything he can imagine, he can create and share with the world. What an exciting time to be alive.
If you want to learn more about ScottieFox, he was recently interviewed by PC Gamer. And you can support his work here.
🧠THINGS I LEARNED
AI Avatars are 🔥. Artists are upset about AI. Game design with AI is here.
🥋 Prompt Tip of the Week: "Take some time to learn screenwriting terms and filmmaking definitions." - Killiam🎸
AI Avatars Next Trend?
I know we already featured Avatar AI, but really. This trend has been everywhere this week. Danny Postma launched Profile Pictures AI, and apparently, it's making a ton of money too. And as mentioned in the news section, Google acquired an AI PFP startup for $100m.
People are already hiring engineers to create copycats of these products.
One thing that isn't clear is how this will impact the creation of NFT PFPs like Bored Apes and Punks. Part of me hopes they start to die off and NFTs focus more on art and the creators behind them.
Artists Are Upset About AI
This is something I've been watching closely as I've got a lot of friends that are non-AI artists, and it's a touchy subject.
There is a segment of artists that absolutely hate "AI artists". They say AI art is theft and soulless. And insult anyone for calling themself an artist if they use AI.
In one viral tweet, artists joked about killing AI artists...
I understand why people are upset and scared.
A lot of artists will probably lose their jobs due to AI, which really sucks. But also, it will be true that more people have their creativity unlocked than ever before.
The best artists will be the ones that embrace these new tools.
Game Design with AI is Here
This week a lot of people shared AI + Game Design-related stuff with me, so, of course, I'm going to share it. Here are 3 projects that stood out.
Further Study 📖
✨FEATURED ARTISTS
LunaMage, Erotome Art, Oliver Altair, and AmliArt
This week we had over 250 submissions from amazing artists, with the theme being Halloween.
Runner Ups:
---
Closing
Glad to have you along for the journey, and thanks for helping us to grow to over 550 subscribers in just 3 weeks. :)
See you next week!
-Nathan Lands
Share this newsletter. 🥰
Follow me on Twitter @NathanLands.
Signup for one of our affiliate partner's services. We get paid a commission which might be able to support this newsletter long-term!  
Some of the links in this blog post contain affiliate links to make a little money to help support the newsletter. I will never recommend something that I haven't tried and believe is a quality product. Thank you for understanding!